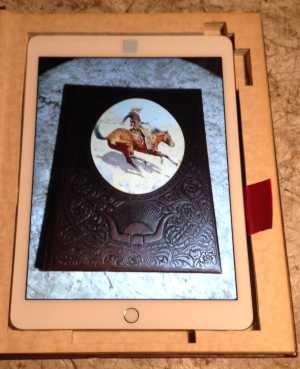 THE COWBOYS iPad Air 2 Case
Totally unique! One of a kind custom fit iPad Air 2 case. Shaped for a naked iPad. Easy access cutouts allow use of volume and sleep buttons while inside the book. Foam resting pads raise the iPad just enough to make these buttons even easier to use. We added an extra cutout to amplify the stereo speakers, making the sound twice as voluminous as the iPad just sitting on a flat surface. Great for watching video....use the book cover as a convenient sunscreen. Easy pull ribbon for getting the iPad out of the book. Magnetic close cover too! Compare this to the $40 Apple Smart Cover and find the value : ).
It's listed in the E-Book section. -Jimmy

PS: Check out the FHB Blog
For the latest Free Hollow Book news check out our mini blog on the books page. We'll tell you all about the newest books and other upcoming goodies!